Contact:
Tina Figarsky, Account Executive
tfigarsky@hbcoc.com or (714) 500-6105

Nancy Tilove, Account Executive
ntilove@hbcoc.com or (714) 500-6105
Pier Review – full color bi-monthly magazine (6 issues)

The Pier Review has a readership of 2,500 + and a circulation of over 1,500 small, medium and large businesses. It is distributed to local hotels, City Hall, Marketing and Visitors Bureau and other Member businesses. It is viewable online for two months. CLICK HERE for Chamber Preview Archives.

CHAMBER BUCKS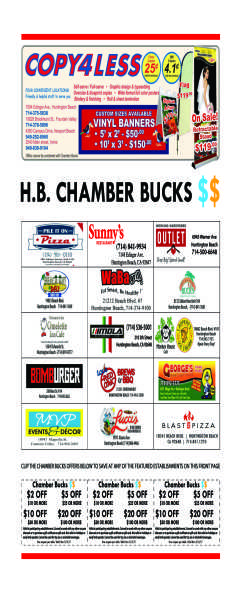 Member2Member Promotions E-Blast - E-Newsletter to Chamber Members (sent every Friday)

The Member2Member Promotions E-Blast has a circulation of approximately 2,500 and growing. It has become the Member's primary resource for the latest specials, announcements and hot deals. Ads are clickable to your website and can run once or for a duration of time. For more info, please contact Tina Figarsky, Membership Sales Account Executive, at (714) 500-6105.

Some samples include:


HBCHAMBER.COM – Official Chamber Website
HBChamber.com has had over 20,000 hits just on our business directory alone. The website allows Members and non-members alike to update their company information, register for events and keep informed about the Chamber. Ads are clickable to your website and are rotated every few seconds.
Features:
Ads appear prominently at top of any page on the Huntington Beach Chamber Website, www.hbchamber.com
Banner ad allows "click through" to advertisers website
Ads are selected randomly from Chamber's banner file with every view of every page.
Can use static or animated ads.
Traffic report of number of presentations (impressions) made and number of click-through to advertiser's website.
Advertiser can choose standard frequency or 3x frequency. With 3x power, your ad is featured three times more frequently than standard.
Benefits:
Reach business and consumer traffic
Increases traffic directly to your website
Cost effective
Introductory rates
Results reported: Number of ties presented and click-through rate
Specifications:
Size is 700 pixels width by 100 pixels height
File size up to 15,000 bytes
Save file for Web/Devices
JEPG or GIF File Accepted
Graphic Design:
The Chamber recommends the following sources to create your banner ad: